I think unforgettable would be the most accurate one-word summary of this trip to Indonesia.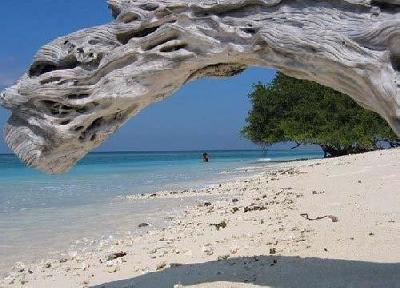 Not because of the turquoise waters of the Indian Ocean, the emerald-green forests covering smoking volcanoes dotting the countryside, nor the general amiability of the local population.
In fact, if it weren't for these things, I just might have gone crazy. It was unforgettable because never before, in my entire twenty years of life (I'm getting so old!), have I ever anticipated being so irrevocably and inconceivably stuck in the situation that presented itself as I walked onto the archipelago that is Indonesia.
It wasn't really a big deal. I didn't even realize it until the second day I was there. But as I punched in my PIN number and selected my cash withdrawal amount at an ATM, I was presented with a message that nearly made me collapse had there not been a handrail to cling onto. I had forgotten to contact the bank to tell them I would be abroad, and consequentially my debit card was blocked from withdrawing money. So there I was, in a third-world country, with nothing but an inability to speak the local language and about twelve dollars to last me five more days.
Here is a surprisingly accurate reenactment of my facial expression when the news came crumbling down upon my unsuspecting self.
In fact, I didn't even think of what I was going to eat before going to Indonesia; something that, admittedly, would have been wise. Alas, as is obvious since I am now writing this post, I survived until my card worked on the last day I was there on nothing but a hotel breakfast and dried noodles with mushroom-flavored MSG. Aside from that little adventure, here's what happened the rest of the time.
My plane left the Bangkok airport at 6am, around the same time my friend Zeta was leaving for Hong Kong at an adjoining gate in the international departures terminal.
We had to leave Rangsit around 3am and were able to split a taxi to the airport. An hour later we were standing in line at the AirAsia check-in counter, hoping they would not weigh our hefty carry on bags as we neared the clerk. I couldn't even fit mine in the little metal box where you can check to see if your bag is within the official carry-on dimension limits. I didn't have any checked luggage, you see, so I had to pack a lot of things into my little school backpack. When I came to Thailand last summer, I did not take any checked luggage either, and subsequently I did not have a suitcase to bring with me to Indonesia. You see? Not my fault. Luckily, the dreary-eyed AirAsia lady didn't even look like she would have noticed if the Buddah himself walked right past her field of vision, much less an overweight backpack from an over-excited American.
Six hours later my plane landed in an airport that looked like it's days were severely numbered. I'm convinced I've seen nicer outhouses than that airport.
After paying $25 for a visa (I was expecting to pay $10!) and walking outside to find transportation, a large conglomerate of taxi drivers swarmed me and offered to take me to all sorts of places. I bet I could have found one willing to take me to the moon. Of course, they had other modes of transportation for the more adventurous.
I quickly ran away from them and walked to the nearest road (the airport was that small!) to wave down a taxi, usually a good way to get a cheaper fare.
The taxi dude took me to my hotel for $8 (just like Cambodia, they accept American dollars!) and I was checked into my room.
If I could have shared the room rate with the number of ants that also inhabited the room, I could have stayed for an entire week for less than a penny. They weren't biters so I had no problem with them, as long as they stayed out of my bed (which, thankfully, they did).
After a couple of hours without any luck, I found a Thai restaurant and ordered two dishes and lemongrass tea. At the time I did not know about the money situation so I was happy to pay another $8 for my meal.
After eating I gave up on the beach and went back to my hotel to swim in the swimming pool and read.
The next day I settled to jump into a taxi and ask him to drive to the nearest beach, but first I needed to get some money and headed to the ATM. You already know what happened next. So after finding my noodles and stashing them in my room, I went back out to try and find the beach.
Of course, I could no longer take a taxi because of my money situation. I was very lucky to find the beach in less than two hours (it was hiding behind a mall and some trees...lol) so I spent the day walking up and down the shoreline, people-watching and enjoying the sun.
I had forgotten to bring sunscreen (recommended for equatorial countries, by the way) so I got a nice tan on my face and neck that day. And by 'tan' I mean 'burnt to a crisp'. I was wearing a hat so it helped somewhat. At least that's what I'm telling myself.
The next day I had not received an email reply from my mom, so I sent my brother Jeremy a message on facebook and told him about the situation. He said he would take care of it asap (thanks again, by the way!). I then went back to the beach, and it suddenly started to pour. Not just a little sprinkle of rain, mind you, but a full-blown tropical rampage, complete with thunder and lightning. From my position on the beach, as well as the position of various other objects on the beach and at sea, I figured I was an unlikely target for lightning and kept on walking. After about 15 minutes, I saw a westerner emerging from the sea with a surfboard. I had been wanting to rent one, but given my lack of money I was hesitant to ask for the price from a vendor. He told me he rented it for two hours for the equivalent of $15, and that I could probably find a cheaper price. I ended up being able to rent a board for an hour for only $6! I loved surfing, every minute of it. At first it was difficult, never having had instruction, but I got the hang of it and was actually pretty good, if I do say so myself ;)
The next day I checked my email and my brother Jeremy said he had unblocked my debit card for me. I was so happy! After eating lunch, I went back to the beach and hired a surf instructor named Iwan. He taught me surfing from about 1pm until sunset, and I was so tired afterward I wanted to collapse! For the last hour, after I was able to surf without falling for about twenty consecutive waves, he taught me some tricks like doing a 180 and surfing with two people on the same surfboard. It was so much fun! It was really cheap too, about the equivalent of twenty dollars. If it hadn't been my last day in Bali, I would have gone surfing every day until I left.
The next morning I packed my things and was off to Bangkok. It was quite an exhausting trip and I was glad to be back in Thailand.
There will be another post before I leave for America next week, so keep checking back, it should be a good one!